When did you last really learn something new about the history of ideas in Scandinavian design? What do you actually know about 20th-century art and architecture in the Nordic countries? Anni Vartola from bookm-ark.fi interviewed Dr Charlotte Ashby, the author of  Modernism in Scandinavia: Art, Architecture and Design (Bloomsbury Academic, 2017). Charlotte Ashby's new book doesn't repeat the old myths but gives a fresh and comprehensive view of the topic through carefully chosen case studies. Let's hear what she has to say about the history of modernism in the Nordic countries and the appeal and relevance of the Scandinavian approach to design in today's global culture.
You've had a lasting research interest in Finnish architecture, design and art. For example, you've published papers about Kalevala, the Nationalist Style in textile and furniture design, and you even did your PhD on architect Vilho Penttilä and his Jugendstil banks. What has led you, a British scholar, to focus on such a culturally small and remote region?
— I am actually half Finnish, my mother is from Helsinki. So I spent holidays in Finland every year, though I was not raised bilingual (something I bitterly regretted whilst studying Finnish for my PhD!). The other reason for my focus was that I was a student of Jeremy Howard's in St Andrews and his research at that time focussed on National Romanticism and Art Nouveau, especially in Eastern and Central Europe. I wanted to continue to work with him and, when it came to choosing a region to focus on, I, of course, chose Finland.
Your newest book Modernism in Scandinavia: Art, Architecture and Design came out in February 2017. What new does this book add to the established narrative of Modernism and the vast bibliography already at hand on the subject?
— I had been teaching courses on Nordic art and design for a number of years and though Scandinavian design is very famous and there are also quite a few books in English on National Romantic painting, there was nothing in English that explored the ongoing connections between art and design or to trace the trajectory for the success of mid-century Modernism back into the nineteenth century. Another point was that histories of the region in the Nordic languages all tended to be national only, like Ars Suomen Taide. I wanted to be able to draw out the parallels, as well as the differences, between the Nordic nations, which all tend to be lumped together in English-language scholarship if they are covered at all.
There is a reality to national traditions that goes beyond myths of nationalism.
The temporal dimension of your book spans between the 1890s and 1970s. Why have you limited your scope to these eight decades? How do you see the fate of modernism in the 1970s?
— Covering the fine art, architecture and design cultures for five different nations was enough of a challenge for me that I needed to set some boundaries to the scope. My introductory chapter provided a context for art and design development going back to the early nineteenth century. From there, I see those eight decades of rapid transformation as the core period of Modernism. Of course, there was not a radical break between the 1960s and 1970s, but the world was changing fast and many new issues coming into play. Much of what I discuss in relation to Modernism continues into the 1970s and onwards, but I had to stop somewhere!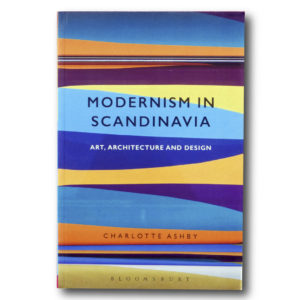 In your book, you speak of Modernisms and modernities in the plural as well as about Modernism as a discourse. What does such an approach mean to our understanding of 20th-century Scandinavian art, design and architecture?
— My understanding of art and design is very much rooted in understanding context and culture, understanding what people were striving for and what identities they wanted to project. As such, different cultures and times produced different iterations of Modernism. Art and design history is still struggling to break away from more formalist readings, where a work is Modernist because it uses white walls or moves towards abstraction. The idea of multiple modernities, of different ways of grappling creatively with the anxieties and challenges posed by a rapidly changing world, allows us to look beyond formal innovation as the only benchmark of Modernism.
You write in your book that, in the Nordic region, the nation and references to national tradition did not dissolve after the National Romantic period but continued to be important: modernist artists and designers understood their work as making a contribution to national culture. When perceived from today's global perspective, is there still room for similar nationalism in your view? Is it still relevant to define art, design or architecture as, say, 'Finnish'?
— Yes and no. I am interested in transnational histories. The art world, in particular, is such a mobile one, with artists and designers travelling and reading and consuming images from different times and cultures all the time. This was true all the way back to the nineteenth century. Nationally focused histories tend to make this cultural exchange peripheral, whereas I see it as central. However, there is a reality to national traditions that goes beyond myths of nationalism. National schools, education and ethos are created and handed down in teaching and mediated in native-language discourse. These distinct cultures are also a key part of understanding the context behind art and design. For me, the greater understanding comes from understanding this context in all its richness.
You work as a lecturer in art history. Speaking from today's viewpoint, how would you describe the contemporary relevance of Scandinavian art, design and architecture?
— In the UK there is a definite resurgence of interest in art and design from the Nordic countries. I think this is driven by much the same reasons as it was in the 1950s when in the context of the Cold War Scandinavia represented a third way between what was seen as the hard edged, technocratic Modernism of Central Europe and the rampant consumerism of the USA. The emphasis on quality craftsmanship and materials, that I trace back to the design reform movements of the nineteenth century, linked these modern objects to more familiar traditions. While it would be wrong to say that buying elite design is not also about status and a display of taste, the appeal of Scandinavian design to the individual hand and eye and its ability to accommodate traditional materials and techniques alongside modern forms still captures the British imagination.
About the author
Dr Charlotte Ashby (b. 1979) was awarded her PhD in 2007 from the University of St Andrews, Scotland. Her thesis was entitled Words and Deeds: National Style Versus Modernity 1890-1916: The Writings and Work of Vilho Penttilä and the Architecture of Financial Institutions. She subsequently held a research fellowship at the Royal College of Art in conjunction with the project 'The Viennese Café and fin-de-siècle Culture'. She now lectures in history of and design at Birkbeck, University of London and Oxford, and her research focuses on modernity, nationalism and the transnational in nineteenth- and twentieth-century European art and design.