Can you visualise modern architecture without glass? Imagine Mies van der Rohe, Le Corbusier and Walter Gropius programming the Bauhaus manifesto, drawing their groundbreaking buildings and tearing their hair out when trying to fit old-fashioned sash windows into their purist facades. Imagine Functionalism without horizontal ribbon windows and without all the light and air the large, steel-framed glass panes brought into the modern apartments, hospitals, officcs, schools and factories. Imagine contemporary architecture without seamless curtain walls made of glass? The Vintage Architecture Book of the Month is Arthur Korn's Glas im Bau und als Gebrauchsgegenstand – Glass in Building and Commodity – published by Ernst Pollak Berlage in Berlin-Charlottenburg circa 1929.
"It is there and it is not there"
Le Corbusier (1887–1965) wrote about the glass as "the most miraculous means of restoring the law of the sun". In his influential article Glass, the Fundamental Material of Modern Architecture in 1935 Le Corbusier postulated:
Glass will be a characteristic feature of building in the new machine age because it is the most direct means by which we can find one of the essential conditions for life: sun and light (…) [Glass is] a wonderful material to perfectly express part of the spirit of the Modern Age!

Le Corbusier. Glass, the Fundamental Material of Modern Architecture (1936). In: Benton, Tim; Stirton, Paul. West 86th: A Journal of Decorative Arts, Design History & Material Culture, 2012, Vol. 19 Issue 2, p.292, 297.
Arthur Korn shares this sentiment in his short introduction. Glass differs from other materials because it is there and it is not there simultaneously: "Es its da und es ist nicht da". It is like a huge mysterious membrane, delicate and strong at the same time, Korn writes. Glass panes slide and open themselves, not just to one direction but to many, he praises. Korn expresses palpable enthusiasm for the dawning of the "new machine age", the airy, energising architecture of the new era, and the new, modern way of life it expresses. His introduction portrays the modern, commercial urban scene with admiration: "The colors of new neon lighting can compete with the colors of old gothic windows".
Glas im Bau – glass in building
Arthur Korn (1891–1978) was a German Jewish architect who resided for the main part of his career in London, UK as a teacher of architecture and planning at e.g. the Architectural Association and Hammersmith College of Art and Building. His Glas im Bau contains little text, only Korn's introduction and a few pages about the technical possibilities of glass in architecture. These technical texts have been written by experts working in the industry and they deal with opal glass, crystal mirror, glass mosaics, glass painting techniques, and glass in lighting technology – how to use them, what are their standard measurements in industrial production, what are their thermal values, chemical features and other technical specifications. These technical adaptations were omitted from the later editions of this book; here, they can be found scattered around in the pages and illustrated with several modern design examples.
By and large, Glas im Bau is a picture book. There are 187 black-and-white photographs displaying buildings, furniture, fixtures and design products designed by leading European modernists: Josef Albers, H. P. Berlage, Marcel Breuer, Le Corbusier and Pierre Jeanneret, Walter Gropius, Robert Mallet-Stevens, Mies van der Rohe, Rietveld, Hans Scharoun and many others.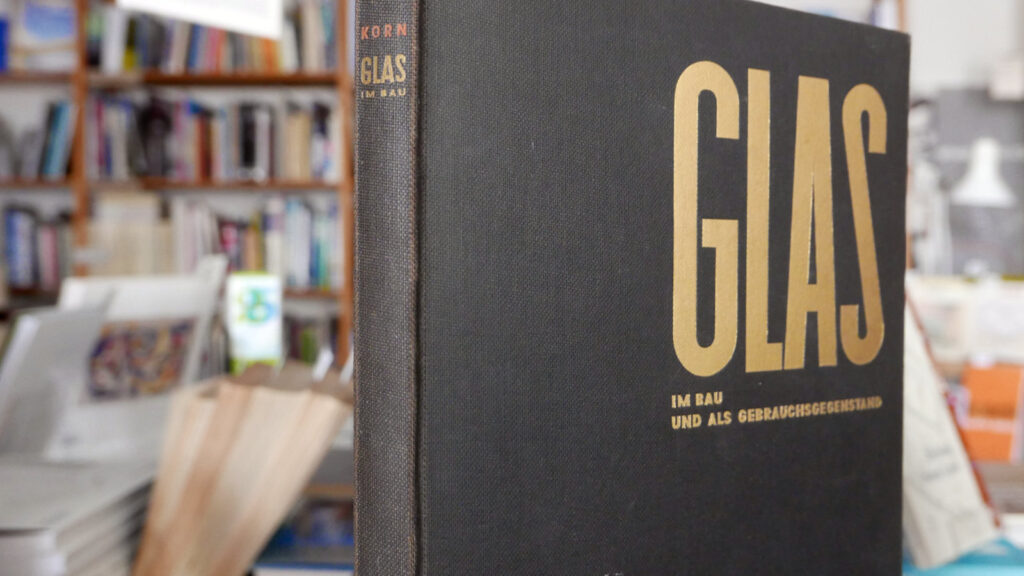 PS.
We have a copy of the 1st edition of Glas im Bau und als Gebrauchsgegenstand available in our web shop and we sell it on behalf of a private owner. If you're interesting in buying this book or you'd like to have further information about it, please get in touch.